IGTV came to revolutionize us all. Not only for those of us who work in the digital world, but also for the users and companies that use Instagram everyday.
These were some of the questions that I received when Instagram officially launched IGTV both from my friends and family, and also from marketing professionals:
Do I put the same content as in the stories?
Do I have to change my content strategy?
With what mobile applications can I edit the videos with?
Do I share the same videos from my YouTube channel on IGTV?
Why do I have to use another application?
How can I view my videos on IGTV?
We could continue the list, but let's leave it there and go to the interesting part of how to take advantage of this new application to connect and generate more conversations. Through this guide, I will share what IGTV is, what you can use it for, when and how to use it, and many more hacks that'll help you achieve more if you finally decide to have a presence in this "extension" of Instagram.
What is IGTV?
IGTV is a new platform that Instagram recently launched to upload and view videos.
In short, IGTV is the television of Instagram and a new space to consume content in videos of 15 seconds up to 1 hour.
This Instagram bet is due to all the video content that millions of users upload daily. You can see it as a way to compete with YouTube directly or as a way to increase quality time within Instagram.
It is no secret that video marketing is gaining strength, the creators of more recognized content (YouTube, Instagramers, celebrities and other influential) capture their creativity and their daily life in videos that are then consumed by millions of users around the world. I use it every day to educate people and also for all my paid leads and sales campaigns. The use of videos decreased our advertising costs and allowed us to expand the visibility of our brands.
How does IGTV work?
The use of IGTV is very simple, but the first thing I want to tell you is that in addition to consuming the videos from IGTV you can see them from your Instagram application and that you'll receive a notification when users continue to upload new content.
In the image that I share below you will see how, following the notifications and IGTV icon, you can consume and interact directly with the contents of other profiles. The advantage of consuming as a result of the application is that it automatically shows you videos of your possible interest and this will allow you to know and connect with other creators.
The only thing you can't do on your Instagram mobile application is uploading your videos.
What you have to know about IGTV
For now, there is a time limitation, your videos can be at least 15 seconds and a maximum of 60 minutes. But Instagram said that this limitation is temporary.
Currently, there is NO official method of its monetization as per how YouTube works with ads. But creators of content can always continue to generate revenue from their content through agreements and sponsorships with brands or selling their own services and physical and digital products.
The contents that you'll see will probably be short videos because the platform is currently NOT for consumption of long videos.
You can manage IGTV from your mobile (with the native Instagram application or with the IGTV application) and from your computer. Once you have your channel created from your computer, you'll have your own IGTV tab active.
You can embed the IGTV videos in your web/blog like any other Instagram content.
You can edit the title and description of your videos from the computer.
You can save a video that you want to upload from your computer as a draft.
You can share the IGTV videos through different methods:
Sharing the unique link of each video
Sharing the link of your IGTV channel
Sending an individual video through private Instagram message
Sharing a story and linking to your IGTV channel
When you create your channel, your Instagram followers will automatically be able to see everything you'll upload. In spite of having to create a new channel, don't get overwhelmed with thinking that you need followers for your channel because you share the same ones from your profile.
The likes and comments that your IGTV videos receive will appear on your Instagram notifications. Remember that you can filter comments as well as your Instagram content (for more recent and featured).
Each profile must have only one channel. This means, you cannot make several channels for one profile.
You can share IGTV videos through private messages.
IGTV has a video player similar to YouTube, this improves your experience and allows you to have more control over what you want to see.
How to use IGTV
Here are the steps you have to take before you start creating and sharing your videos:
Update your Instagram application
Create your IGTV channel
The use of IGTV is very easy. You can see videos that the platform has selected for you, videos of the people you follow on your Instagram, videos that are popular and trending, and also those that you left halfway (which is something that I really love).
You can also use the search engine to access the videos of your interest and upload your own content as well as being able to switch between one account and another.
Ideas for videos on IGTV (When to use IGTV)
Unlike YouTube, where you have to upload quality, well-edited, and with very good content videos (assuming that you want to stand out in YT). In IGTV, you can upload videos which are more homemade and natural.
Here are some ideas for using IGTV:
Launch your vlog on this platform and if the format works for you then you can plan to launch it on YouTube as well
Entertainment videos less than 5 minutes
Interviews
Mini-tutorials
Questions and answers (answer frequently asked questions with mini videos)
Trailers and summary of other longer videos that you have on YouTube / Vimeo
Expectation videos
Replays of your Instagram Live
Demos
Unboxing
Webinar Replays
Mini online courses or masterclasses
PS: You can make your first video about introducing yourself with a promise of what kind of content your followers will see.
Recycling strategies to create more content on IGTV and other social networks
With the arrival of IGTV, I've seen many content creators and companies who were overwhelmed with its launch, but remember that you can start with a recycled strategy to maximize your content.
Don't worry, your current and new organic followers provided by SimplyGram's free trial, one of the best Instagram growth service apps, will support you through your first few steps in diving into the IGTV world. Through recycling your strategies, you'll also see how your main content (article of your blog) can give more content to your videos or images for different channels.
For you to better understand what kind of content, here are some examples:
Article: Mega guide to creating Facebook Ads campaigns
Lead Magnet: Examples of Facebook Ads
IGTV video: How to spy on the competition on Facebook
History of IG and FB: Visit my new IGTV video to see how to spy on the competition.
Post on other social networks: Did you know what you can see which segmentation your competition uses? Watch my video on IGTV
YouTube video: How to spy on the competition and segment better
Can you see how when I recycle, I extract different points from the main theme of Facebook Ads? This is a simple exercise that you can easily replicate.
If you're wondering why I first launched the IGTV video and then the YouTube video, the answer is simple. YouTube content has a long duration, IGTV content after a few days drastically decreases consumption. With IGTV, I validate my themes and through the feedback (comments and questions) that I receive, I can create a better YouTube video.
This small strategy makes everything more effective and your conversions increase.
So now you know, the next time you want to publish a new video on IGTV, remember to have your article (to convert visualizers into visits), your lead magnet (to convert traffic into leads), and promotional pieces on other channels.
The format of videos and technical information
IGTV is thinking for the consumption of videos in VERTICAL format, you can upload them horizontally but you would be forcing your audience to turn the mobile to consume your content and this is NOT the objective of the video platform.
Mini-tutorials and tips for using IGTV
Share the direct link of your IGTV videos
From IGTV or entering https://www.instagram.com/ tusuario / channel / (from your computer), you can get the direct link to your videos to share them on another channel.
Ex: https://www.instagram.com/tv/BkVdij3BRNH/
How to upload videos to IGTV from your computer
You can upload your videos from the IGTV application but let's be honest, if you're going to edit your video on your computer then it's easier to upload it from your browser (Ex: Chrome) than having to put it on Dropbox, download it on your mobile, and then upload it to IGTV .
To upload the videos from your computer, just go to the following link https://www.instagram.com/tv/upload.
From there, you can upload videos of more than 10 minutes and in a more comfortable way than from your mobile
How to edit the description and title of your IGTV videos
From the mobile application, you can NOT edit the title or description of your videos. However, from the computer and once you are logged on to your Instagram profile, you can enter the IGTV tab, select your video, and give it a quick edit to finally change the title and description.
Optimize your videos with a good title and description
If you want to get more results with your IGTV content, check out the following tips:
Include a short title. Not too long, so that it doesn't get cut.
Use 21 characters for Instagram notifications
And include up to 33 characters for the IGTV app
When writing a description, you may cut the text by lines but don't over do it. If you go over 25 lines, your audience might have to scroll and you don't want that.
In the description add links to your website and hashtags (both are clickable).
Use your own hashtags to link your IGTV videos to one or more posts on your Instagram.
Use your Instagram stories to get more IGTV traffic
Only accounts with more than 10 thousand followers can add links in their stories. However, with IGTV any Instagram profile (regardless of the number of followers) can link a story to an IGTV video.
This is great in order to get more views and even more after the trick that I taught you to add clickable links in your videos. From the story, we get a production of traffic that can become leads and sales.
How to analyze the results of your videos on IGTV
From the mobile application, you can see the analytics of each video you upload. For me, the most interesting is the graph of the percentage of video consumed by the viewers.
To see the analytics you have to go to your video and give the three points to finally choose the Insights option. The metrics that you'll see are the following:
Number of views
Number of likes
Number of comments
Retention percentage
Applications to edit videos from your mobile
From the computer, you can use the application of your choice (Adobe Premiere, Camtasia, ScreenFlow, iMovie, etc.). Now, as IGTV is designed to be managed from the mobile and not only from the computer I want to share some applications that can help you when making basic editions (cuts, add text, filters, gather videos, etc.)
Videoleap | Enlight makes great apps, I usually use their apps to edit images. Through Videoleap, you can edit and mount videos easily and quickly. You have many functions as with VideoShop. IMPORTANT: To upload videos to IGTV, you have to use the 9:16 format.
VideoShop | With this application, you can add subtitles, texts, and music, cut videos, put slow parts, etc.
iMovie for those who have iOS
Quik | The GOPRo application that you can use even without having this camera. Download in: iTunes | Google Play
Tip video editing
To create a video in vertical format from your computer, you have different options:
– You can make it in a horizontal format and then flip it with tools like Quicktime
– You can make it right from the beginning with the vertical format. With Camtasia, ScreenFlow, Adobe Premiere and any good video editing application, you can create a workspace for your video with the size you want. Ex: 1128 x 2008px.
Recommendations for IGTV
To conclude this guide, I would like to leave you some recommendations for the strategic use of this platform.
Check out succesful posts and profiles and understand what makes them tick!
Always upload a personalized cover of your videos. My recommendation is that you make an image (1128 px X 2008 px) and upload it. You can create the cover with Photoshop or Canvas.
If you are using a video that you want to send from your computer, make sure they are not compressed in the end. You can use Google Drive, Dropbox or AirDrop to ensure you retain the video quality.
Select the highest resolution for your videos, if possible.
Unsure about what content you want? Dabble in different subjects or topics. For example: how to's or tutorials, reaction videos, Q&As, behind the scenes, etc. Discover what works best for your audience.
Remember to boost interaction and engagement! Ask your viewers to leave comments, tag their friends, etc.
Understand what your audience likes by trying out different video lengths.
Alongside creating great IGTV content, you can also get more of the same engaging followers that love your content through SimplyGram's free trial. The best Instagram growth service app in 2019 that'll do all forms of organic activities just to find you followers.
Finally, do not forget to experiment and try different formats until you find the ideal one. I do not recommend "falling in love" with one single content format right now on IGTV. It's very recent to define a unique content strategy. In this first stage, you must validate the format and the type of content that your audience prefers.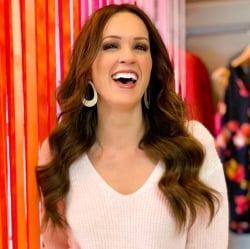 Latest posts by Lorraine Morgan
(see all)