You can't imagine how happy I am because you're reading this post. Today, I'm showing a new section on the blog called "Challenges of Digital Marketing". A new project in which I want to share my projects, inventions, and learning in real time. We always run alone in social marketing, at very late hours and with no one next to us. I want to change this and I want to make it more real with you through this new live segment of the blog.
The challenges will have a simple structure: first a description, then my hypothesis, objectives, development of the challenge and finally I'll update you about the results and changes that I'm making so that you can see the evolution of each challenge. I want to be clear that I won't always succeed and that my hypotheses will not always be fulfilled, but I'm sure that I'll learn a lot and that these challenges will help me to convert more with less effort and investment.
After this paragraph, I want to share my first challenge: Instagram Ads vs Facebook Ads. A few months ago I wrote an Instagram book and since then I've not stopped trying everything. I really wanted to try advertising on Instagram and I'm excited about the results, however, I want to compare which one converts more and which type of advertising is cheaper.
Challenge Instagram Ads vs Facebook Ads
I've designed this challenge to check which is the cheapest social network to promote a paid product and which is the social network that generates the most conversions (sales). To implement this challenge, I'll do the same campaign using the same copy and images to distribute on Instagram and Facebook. At the end of the challenge, I'll check which social network has worked best for me. The sales product that I'll take will be my #Triunfagram book.
Secondary Objectives
The first objective is to see which social network works best for me, but my other objectives are:
To not pay more than € 5 for each sale generated through these campaigns. The price of the book is € 14.99.
Get new followers in FB & IG. With Instagram, I can't say which ones come exactly from publicity, but with Facebook, I can easily know it.
Make me know new people so I'll exclude my Facebook fans and my newsletter subscribers in one of the AD Sets.
Challenge Hypothesis
The challenge has obstacles, the cover of my book is something that I can't use since it doesn't complement the theme of the Instagram logo and I also have to understand that people using their phones don't usually make purchases, so on Instagram, my conversions might possibly be low. That's why my hypotheses are:
The engagement in Instagram ads will be better (if this is about hundreds of likes/ comments interactions), Facebook will be in dozens. This hypothesis is from my previous experience with advertisements.
Conversions on Instagram will be less than the ones from Facebook. That is to say that I'll sell more with my Facebook ads than with Instagram ones.
I'll have more impressions of the ad on Instagram than on Facebook.
Development Of The Challenge
1. My toolkit to mount the challenge
The first thing I'll share is a toolkit necessary to implement this challenge:
Gumroad and Selz to create the payment link of the ebook. I've created two products, which have the same content, the difference is the name, to then measure how many sales come from Instagram and how many from Facebook. Especially, so as not to mix my "organic" book sales with this challenge. This is the easiest version you can use when haven't mastered the topic of tracking well. In my case, although I dominate the subject, Selz doesn't allow me to put a thank you page to measure my conversions. They have a pixel tracking but it doesn't work 100% of the time on Facebook. So then I'll have to make a manual table to calculate the value of each conversion.
The landing page to promote the product. I have all the information on the triunfagram.com page, but I've decided to use LeadPages to create a simpler landing page and above all something more adapted to mobile devices. Then I duplicated the landing to have two versions, visually they are identical, the only thing that changes is the Selz payment button.
Landing for Facebook ads triunfagram.com/ebook-de-instagram
Landing for Instagram ads triunfagram.com/ebook-instagram
Ads in horizontal and square format for Facebook and Instagram. I like to add different designs to validate which one is cheaper. I've tried to put ads with my photo and others without my photo, so I can check what sells more.
Define the investment:
€ 20 per day (€ 5 for each AD SET). It is a "shy" investment, but I believe in trying less and then putting more money during the campaign or later to make it bigger. This is to say that throughout the challenge I'll change things.
Define the time of my campaign.

To have a good set of data from the experiment, the campaign will be active from Wednesday (early morning, when I'm doing the post) until Sunday, October 25.

Define the AD SET of my campaign.

New prospects – to introduce myself to a new audience.
BBDD Newsletter and events – for subscribers and attendees of digital events that have not yet purchased the book.

Prepare the copy of my ads, it'll include symbols or emojis to make more impact. If you're wondering why I have so much text it's because I create my ads using Power Editor and that allows me to add more text.

Titles (only valid for FB)
✓ The most practical e-book on Instagram ✓
✌ Instagram's most complete e-book ✌
✓ The most complete e-book about Instagram can be yours today ✓
Descriptions for ads

I present to you Triunfagram, the most complete Instagram e-book that will help you succeed on Instagram. ✓ A complete guide with the best strategies and tactics to take your management on Instagram to another level. Buy it today and access the book, editable templates, group FB and tutorial videos.
✓ E-book with more than 330 pages + ✓8 editable templates + ✓ tutorial videos + ✓ Exclusive access to a Facebook community with other super active professionals + ✓ Graphic design bank for Instagram. BUY IT AND DOWNLOAD IT TODAY!
Do you want to succeed on Instagram and take your account to another level? Discover Triunfagram, the first book in Spanish with more than 330 pages full of strategies and tactics 100% effective. INCLUDES: Private group access in FB, video tutorials, templates, and design bonuses.

Texts for links (only valid for FB)

A complete ebook to learn to succeed on Instagram with the best strategies and tactics of branding and sales. INCLUDES: ✓Templates ✓ Tutorial videos ✓ Content guide ✓Access to the Facebook group.
☞ A complete ebook to learn to succeed on Instagram with the best strategies and tactics of branding and sales.
A complete ebook to learn to succeed on Instagram with the best strategies and tactics of branding and sales.
After finishing step one, I sometimes also consider organic follower growth services such as SimplyGram since it offers me the opportunity to get a wider reach and to get higher visibility. Get the same engaging community that I have just by signing up for the free trial!
2. Mounting the campaign in Power Editor
To be able to do the Instagram campaigns you have to use the Power Editor, if you have never created one, review my guide with all the steps and then continue reading the challenge. I share the steps to mount my campaign of the challenge that I've taken into account:
I went to the hearings section to add new audiences. These audiences that you will see below I uploaded to exclude them and include them in my campaign. For example, I'm not interested in showing an advertisement to book clients, as well as I want to reach the public of my newsletter that does not have the book.
I subscribed the subscribers of my newsletter and online events as an audience that I called "Newsletter VN October" and "CongresoFEA"
I imported the buyers of the #Triunfagram e-book and I called them "Clients triunfagram October"
I went to the library section and uploaded the ads I prepared to advance this part.
I gave the button to download to power editor to have my campaigns updated.
I went to "manage ads" and I gave him to create a new campaign with clicks to the website and then I started to configure the different AD SETs and my ads.
CONFIGURATION OF AD SET "NEW PROSPECTS" on Facebook & Instagram
This is an ad segment to new potential customers who interest me, I've taken into consideration the countries of recent purchases. This is the good thing about using Selz, it tracks everything and then allows me to use that data. In terms of interests, I defined the ones most related to my book and from there, I'll take this opportunity to exclude my fans, newsletter subscribers and book clients, from my campaigns seeing as the ad has already served its purpose.
CONFIGURATION OF AD SET "BBDD NEWSLETTER AND EVENTS" on Facebook & Instagram
As you will see here, I removed the limitations of countries and age. Of all the subscribers that I have Facebook and Instagram, only a small percentage registered in their platform, that's why I get a lower potential reach. You will see that there is a difference between Facebook and Instagram, it is totally normal.
SETTINGS ADVERTISEMENTS
In the end, I generated different ads. For new prospects, I used my own photo, because according to other advertising experts, the image of the professional is closer in a first approach. We'll see if it's true 😉
For my second ad set, I generated some ads with illustrations and others with my photo.
POSSIBLE IMPLEMENTATIONS
In the first 24 hours of starting the campaign, I'll activate a new ad set (SM Charges) and new ads with calls to action to reinforce. If so, I'll be adding to this post with modifications and next steps.
I'll also deactivate any advertisement that is very expensive or that is getting a low CTR to leave all the investment to the ad sets that work best.
Finally, I can only hope that Facebook Ads validates the campaigns created.
Coming Soon My First Results and Modifications
Take note that the results below are totally transparent. Upon seeing the results, I'll also implement new ideas that I can think of to improve my challenge. If you wish to try out the same challenge, here are some essential questions to think about:
Do you think that ads will work better with your own photo or those that have an illustration?
Which channel do you think will generate more conversions?
Of all your ads, which do you think will generate the most clicks on the landing page?
Which ad do you think will generate more income?
By the way, you can also encourage yourself to try this challenge and then compare results 😉
* First Results – 2 Days Of Challenge *
Finally, I can share with you the first results, I'll start taking the hypothesis as a reference and then the changes that I'll be making in the next few hours to further enhance the challenge.
Facebook has become more than Instagram.
6 books have been sold on Facebook and 2 on Instagram.
5 purchases were in euros and 3 in dollars
The ad has been more successful on Facebook than Instagram
It's funny because the book is Instagram and somehow it's still on Facebook where I got more sales. In addition to that, the cost per click to the web was much cheaper on Facebook. In previous campaigns that I did only on Instagram, I was able to pay 0.01 and 0.03 and now I'm paying much more. At the beginning of this post, I said that I was going to be totally transparent and that's why I'm sharing right now the Facebook statistics so you can see the results achieved so far.
Campaigns to people who know me from my DB are cheaper.
I've managed to convert 27 newsletter subscribers into fans of my page, however, from the ads about new "prospects", nobody became a fan. In the post, I warned everyone beforehand that we can't see the new followers of Instagram achieved by ads.
The ad with more symbols and with my photo holding the book has had very good engagement on Facebook, the best of all.
The Ad Set of new prospects on Instagram is not working as well.
Instagram Gives More Love Than Conversion
On Instagram, the engagement has been doing great, this is what I've achieved so far:
140 new followers and I usually have between 10 and 20 new ones a day usually. (Pirendo Data)
The interactions in the posts have been very good too, one of the ads with my photo already has 365 likes.
The ads with my photo have more engagement than the illustrations
Apps like SimplyGram, the best organic Instagram growth service in 2019, offers a free trial to get all the love from your future organic and engaging community.
Conclusions First Results
The landing page is not working well. The campaign has generated 1002 clicks and only 8 sales, the conversion is 0.7%.
I'm going to re-adjust the investment and activate the charge campaign and shut down the new prospects on Instagram. It's the most expensive one yet it doesn't generate that many clicks.
I'll change the individual ads that don't get as much impact (the illustrations).
I expected more sales, but that's why I always do these tests to optimize my future campaigns. This challenge is teaching me to understand the behavior of my audience and this learning is pure gold.
I'm positive with the campaign, although I said that I didn't want to pay more than € 5 and now I'm paying € 6. But now I'll adjust the campaign to see how to improve this part.
Next Steps Following The Conclusions
I'll change the landing page to boost sales. I'm thinking of making a pack of e-books to see if this increases the results.
I'll upload new ads that include the price because I have a slight impression that people think it's free 😛
I'll activate the charge campaign to see how it works.
Then I'll share the changes I made and the results that I generated.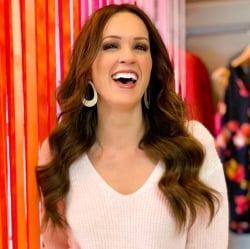 Latest posts by Lorraine Morgan (

see all

)