These days, things are getting harder and harder for those who prefer the unnatural way of fast tracking their Instagram growth by buying IG followers. This practice, which they think is favorable to them, can seriously harm them in the long run.
If finding out who has unfollowed you on Instagram was one of the issues that gave meaning to your strategy when you were creating your community, forget about it because this is no longer a trend.
Why Are We Worried About Being Unfollowed On Instagram?
Getting more followers has been for many, and still is, the main objective of creating an account on Instagram. This is because there is a widespread (and erroneous) notion that "the more, the merrier".
Monitoring followers and the obsession to see who stopped following you on Instagram, distract you from professionalism and focusing on tangible results. Of course, everything has a reason.
The "False" Importance Of "Unfollow" On Instagram
In recent years, the social media revolution has led us to witness an epic battle of influences.
People make money out of being a blogger, YouTuber or a social media manager for big brands with thousands (or maybe millions) of followers. This perception has led us to lend excessive importance to the follow and unfollow game on Instagram, and other social media platforms. Think that:
Profiles that have a much larger volume of followers than follow-ups are considered influential, but they unknowingly neglect other aspects of their business.
While other channels allow you to easily analyze this aspect, Instagram doesn't allow you to see who does not follow you from the list of people or users you follow.
The good statistics that we collect encourage our desire to create a large community in the shortest possible time.
Of course, the most influential Instagram accounts are characterized by having a large community, but also by the level of connection that exists between them and their IG followers.
Followers On Instagram: New Restrictions
The new RGDP, or the recent daunting changes in the Facebook algorithm, are nothing more than measures to ensure legality and encourage the implementation of effective strategies on Instagram, and any other online channel.
Although IG has adapted all its policies according to the changes we have been experiencing on Facebook, its limitations have been quite firm for a long time.
Forget About "Who Unfollowed Me On Instagram"
Instagram imposes many limitations with regards to the use of hashtags, the number of daily interactions, or the length of the texts in different sections of our profile.
Among all its restrictions, remember that there is a maximum of 200 follows and unfollows a day. This safeguards the idea that what is involved is an account that is managed ethically. This also guarantees that what we have is a community of related interests.
Therefore, in order to circumvent this limitation, people turn to third party or external tools. Awareness of consequences when using external tools or violating policies is important. Keep in mind that Instagram can block your account once they detect suspicious activity. All this in the elusive search for "Who has unfollowed me?".
Apps That Enable You To Check Who Followed/Unfollowed You
Surely, you have read more than one article that recommended tools to find out who doesn't follow you on Instagram anymore. As a friendly warning, you should know that Instagram has also become more vigilant in this regard.
One particular example is Unfollowgram. This site was advertised as a great way to check who unfollowed you, who doesn't follow you back, etc. Now, when you attempt to select Instagram as an option, you will not be able to since it is already greyed out.
Other tools and apps that users have tried for the same purpose are currently inactive or no longer existing. If you are curious to see what other apps or sites are out there, that could also be used for Twitter, you can check out:
He does not follow me
Crowdfire
Unfollow
How To Avoid Being Unfollowed On Insta?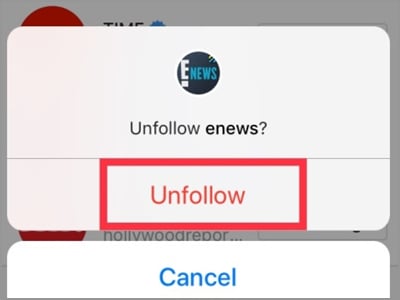 The fact that there are restrictions on the use of third-party tools does not mean that you should not worry 100% if many of your users stop following you on Instagram.
This could be a sign that something is wrong with your strategy and, most likely, you are not impacting your target audience with the content or type of activity that they expect from you.
Be clear that if you are going to make efforts to increase your social community, and do things right, you will not limit yourself to the practice of the "if you follow me I follow you" game.
If you are serious about growing your community and getting more Instagram followers organically, you need a growth service that understands your account and can help keep your audience loyal to your brand. Simplygram is a great way to achieve this.
Alternative Practices In IG To Prevent Unfollows
If you do not know why they have stopped following you, or you have no idea how to win followers on Instagram back, keep calm because it is normal.
As tips for #Triunfagramers, remember that if you want to get quality followers you should avoid:
Bombarding users with unknown labels or mentions.
Following users who are not related to your sector.
Abusing the use of hashtags in each post (especially with copy-paste).
Posting merely informative posts without a story to tell.
In truth, there is no magic formula to succeed and sell on Instagram, but what you surely should not do is follow suspicious practices such as the "follow-unfollow" technique.
The best strategies are those based on sharing good content and creating a loyal community that is interested in what you have to day and offer.
Once you take a look at many of Instagram's most powerful accounts, you will see that the actions below appear in their strategies:
Having a 100% complete profile with a powerful bio.
Publishing high resolution photos and applying unique filters.
Creating inspiring content.
Using hashtags intelligently (and without abuse).
Combining different types of content (For example: professional + lifestyle).
Sharing stories and highlighting them with funny covers.
Throwing raffles during festive seasons, sometimes for charitable causes.
Playing mini videos with a specific focus (promotional, educational, etc).
In addition to these ideas, you can put into practice everything you know that can contribute to making better content. That is, everything you think that could help with resolving your audience's concerns or ensuring that they remain connected to you at all times.
Official Tools To Manage Followers
One thing is for sure, we cannot solely rely on the support of external apps if we want to manage our Instagram accounts and our communities properly.
Facebook offers several community management tools to help you out. Aside from that, there are also other recommended tools if you wish to go the extra mile:
Social Audit Pro – identifies fake followers and performs a few analysis options. Has a trial version.
SocialRank – analyzes and records the behavior of your followers in detail. Has a free and paid version.
You can also use the Simplygram growth service to ensure that you gain Instagram followers and that your account grows fast, but organically. We hope that these tips help you manage your community and your profile the best possible way!
Latest posts by Mattie Schultz
(see all)