Nitreo vs. SimplyGram, which one should you choose? If you want to try an Instagram growth service, these two are among the top contenders. But, can you choose the best option for you? We prepared a detailed review with features, pros, and cons to help you invest in the right site. After reading this blog, you'll be more familiar with the methods these services use and how they boost your engagement.
What Is Nitreo?
Nitreo is a growth service that can help you get more followers on Instagram. This site uses the follow/unfollow method to get you more followers and different engagement tactics, such as leaving comments, likes, viewing stories, etc.
The service has two different subscriptions, Essential and Speed. Both subscriptions come at different prices and promise different things so that each user can choose the best option for them. Unfortunately, the site doesn't offer a free trial, so there's no way you can find out if what they promise is completely true.
Top Features of This Service
Should you consider this service as a part of your growth strategy? If you're not convinced that it's the right choice, you can read more about its features below.
Easy to Use
According to the site and Nitreo reviews, the service is very simple to use. All you have to do is choose your package, sign up and contact the team. They will ask for information about your preferred target audience and competition, and you'll need to share Instagram accounts and hashtags in your niche.
According to the site, the signup process only takes two minutes, and after sharing all the information they need, the team will work on reaching relevant accounts in your field.
Targeting
This service gets to relevant accounts through targeting. For example, they research hashtags, number of followers, gender, profile pictures, and types of accounts and create a list of potential users within your niche. Once your team has this list, they get in touch with the users and promote your account.
Dedicated Manager
When you subscribe to this service, you get a dedicated account manager that will work on your profile. The manager will look at your statistics, competition, and hashtags with a team, then suggest a strategy. If there are any issues with the subscription or results, you can talk about them with the manager.
Automated Engagement
This service will engage with other accounts on your behalf. After figuring out the right audience, they will start following new accounts, commenting, viewing stories, liking photos, etc. This can increase your brand engagement and deliver new followers.
Is Nitreo a Scam?
Is Nitreo legit, or is this site a scam that will only take your money? This is a legit site that can increase your numbers on Instagram. So, if your question is 'Does Nitreo work?' our answer is yes. However, the site has certain disadvantages you should consider if you want to subscribe to its services.
One of the downsides we noticed is that the service doesn't get too into detail about how they get new followers. The only thing they mention is that they use detailed targeting based on different factors.
Nitreo VS. SimplyGram
If you're considering which of the two services to use, your decision will be much easier after reading this part. So let's start by explaining the main difference between the two sites. First of all, Nitreo isn't very specific regarding its methods to find the right accounts for you. On the other hand, SimplyGram clearly shares that they use the Mother/Child method and an AI-powered engine to track your actions.
Next, Nitreo doesn't offer a free trial. Since the subscription plans are monthly and aren't cheap, having a free trial means a lot. SimplyGram offers you a three-day free trial you can use to see if you like the service. If you're not happy with the results, you can just quit the trial and try a different site.
Another disadvantage is that the first service doesn't offer 24/7 customer support. Their site only has a general contact form, so you can send them an email, but we're unsure how long the response will take. On the other hand, SimplyGram has 24/7 customer support and a dedicated account manager you can contact.
Best Ways to Grow Your Instagram Followers
If you're looking to achieve organic growth in 2022, these are the tips you have to keep in mind:
Use Reels and Videos
Reels and videos are among the most popular Instagram features. Also, this platform often pushes new features like reels, so if you create great content and use a fun sound and description, your reel might appear in front of thousands of people.
Build a Recognizable Brand
You should create a recognizable brand with a signature logo and an authentic voice. People don't like it when Instagram accounts don't have a personality; therefore, you should be approachable and engage with your followers.
Practice Partnerships and Collaborations
Joining with other users, influencers, and brands can drive traffic to your profile. In other words, most of their followers will find out about you, and many of them might even decide to follow you. Therefore, partnerships and collaborations are beneficial for both sides. When collaborating with influencers, ensure to present your vision and pick a person suitable for your audience. Micro-influencers are huge right now because they have an authentic and loyal audience that can work great for you.
Conclusion
Why is SimplyGram better than Nitreo? If you're looking for a trusted site that clearly states which methods it uses to grow your following, then SimplyGram is the way to go. You can check the many testimonials from happy customers on the site, go over the features once again, and choose your subscription plan. Although Nitreo also promises organic growth, the service doesn't get into detail about the methods and techniques they use. Another huge advantage is that SimplyGram offers you a free trial so you can see if it's a good fit for your business.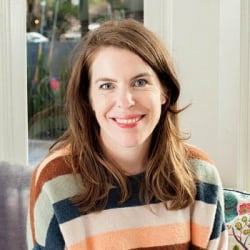 Latest posts by Mattie Schultz
(see all)