Making money out of an Instagram account is possible even without having the most advanced knowledge on the technical and operational aspects of it all. So if you want to know how to make money on Instagram, you better start taking note of the tips listed here to make your life easier.
2 Ways to Earn Money on Instagram
Yes! You can earn money on Instagram. But first, you need to understand that there are two ways to achieve it:
Organically : This is best and easiest way to earn money on Instagram without making an economic investment. All you need is the activity in your account. To be able to do this, it is important to get to know your Instagram followers really well, to get the most out of all the available IG functionalities and, above all, be very active in the stories.
Investing in Instagram Advertising : To help you out with growing your Instagram following, the visibility of your business can increase if you decide to advertise on Instagram (if it works well in an organic way, imagine how well it will do when you advertise). If the strategy is right, your sales will grow and, consequently, your income will grow too.
How Do We Do It?
Now that we know it is possible to earn money on Instagram, how does it happen? Those who know the trick of the trade well are those countless influencers that work everyday to promote brands and businesses. Their testimonies enable them to rake up varying amounts of income on a day to day basis.
And while they know how to make money on Instagram, there are still many businesses that have not yet discovered the enormous potential of this social media platform to increase the profitability of their brand or company.
Regardless of the path you choose to monetize your account (organic, with online advertising, or both), there are a number of guidelines that you can start implementing now. Pay attention to these Instagram guidelines that will surely grow your business exponentially:
1. Create and optimize a company profile
We assume that your brand or business already has a unique profile on Instagram. Right? But are you sure you have optimized it correctly? First and foremost, your profile has to be a business profile. By doing so, you get to enjoy all these perks and hidden advantages:
You will be more relevant to Instagram.
You can increase traffic to your website.
You will have access to data and statistics.
Only a company profile can invest in paid advertising.
As you can probably imagine by now, you can earn money on Instagram and grow your business at the same time. It is just a matter of being able to change or update your company profile (if you have not already done so).
2. Identify and define the target audience
Anybody who is curious about making money on Instagram through their own business should also be able to picture the importance of knowing how to direct communication efforts. You always hear about the term "target audience". This is the kind of audience that could potentially be important to you because of their specific social and personal characteristics. These are are the people interested in your products or services.
In this sense, it is absolutely important to do everything with purpose. The number of Instagram followers and users increase so much everyday that it is becoming harder and harder to find what clicks for them.
You will have to find out what your target market's behavior is. Know their interests beyond what you offer. Do not limit yourself to the basic knowledge of simple interests. Based on this understanding, you will soon start to develop all your strategies and discover how to make money as you get more Instagram followers.
And if you want to get more help about knowing what works for your audience so you can grow your Instagram following organically, you can also use an Instagram growth service called Simplygram. They currently offer a free trial that can help you gain 30,000 followers in under a year.
3. Create and deliver quality content
This is not a minor issue. More and more professionals are aware that you cannot make money on Instagram without sharing photos, videos, quotes and personalized memes. In fact, there are already experts who have started to specialize in this type of content and can help any business improve the image and sales of their company profile.
Whether you resort to these experts, or you decide to manage the content yourself, you will have to take into account the following points:
The quality of the device with which the photographs are taken and the videos are recorded.
The way images and videos are edited, and the use of filters.
The quality of work and absence of spelling errors in your texts.
The possibility of using applications to improve your publications, such as Lightroom, Canva or Photoshop.
4. Use Instagram Stories to convert
Taking advantage of the power of Instagram stories will not only help you sell more, but also help you to get to know your followers even better. Tools such as polls or surveys can help you get valuable feedback while you interact with your IG followers in a fun and natural way.
In addition, the multiple creative possibilities and the option to stream live videos can make your results much more profitable.
5. Create Integrated Campaigns Linked to Landing Pages
Finally, the key word to remember is "Integrate." Do not isolate your profile from your other social media accounts or websites.
It is always best to integrate them all to optimize the results you get out of your Instagram account. Link your sales landing page in the bio and in every post where it is applicable.
Remember, growing your Instagram and making money out of it is possible if you follow these simple steps. On top of it all, if you want to get ahead and boost your business in the best way possible, you can also sign up for Simplygram today.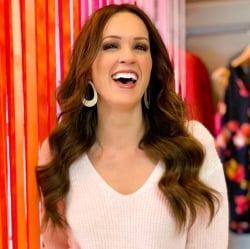 Latest posts by Lorraine Morgan
(see all)