No matter if it is food, mountain, beach, or brand, the first thing we do is: put a beautiful picture of it up on Instagram. And an impressive Instagram photo, video, or story is sure to inspire and engage your followers. But do you know that your Instagram profile picture is of equal significance? As an Instagrammer, you'll want to ensure yours to look perfect, so let's see what are some Instagram profile picture ideas.
Why Your Instagram Profile Picture Matters
Making a good first impression is extremely important. While it definitely matters in the real world, the same principle can also be applied online. When a potential follower visits your Instagram profile, the first thing they notice is your profile picture. Having one that is visually attractive is going to increase the chances of them hitting that follower button. In the long run, this can help grow your account with more followers. And if you're a brand or a business, our profile picture ideas for instagram can help you reach more new customers.
Ideas to Perfect Your Instagram Profile Picture
Choosing the perfect Instagram profile picture requires attention to detail and just a little bit of effort on your part. Here are some tips and tricks you should keep in mind when choosing a picture for your Instagram profile:
1. Show your face or logo
It is always best to just put yourself out there when trying to connect with audiences. Unless you're trying to market a brand or company, the ideal profile picture would be your own face. Not only does this add a personal touch to your Instagram account, but it also makes it look more credible. This is true, especially, for solo workers, such as freelancers and influencers. Putting up a picture of your face can help you gain your audience's trust.
For business accounts and brands, it would be better to use your logo. Your brand is defined by its logo, which is why this image should be the center of attention when someone visits your profile. Also, it is a good idea to put up temporary profile pictures, such as a picture of your team, to avoid making your profile look boring.
2. Be sure to smile 
If you choose a picture of your face for your profile, you must also remember to have a smile on your face. Your expression can have a massive impact on the way people perceive you and your work. A bright smile will give out a positive vibe and make your personality shine. It will make you seem more welcoming, and therefore encourage users to follow your profile.
3. Select the right background 
Make sure that your chosen background compliments your look. A blurred or muted background is suitable because you don't want any excess lighting or clutter taking the attention away from your face. Using a lot of vibrant colors is also not recommended, and it would be far better to use just one color that fits your profile's theme. Using the same theme across all of your social media accounts is a key part of personal branding on digital mediums.
4. Use a good camera
The quality of an image, undoubtedly, depends heavily on the camera you use. Be sure to use a camera that produces high-quality images. If you have some extra money, hire a professional photographer who not only uses the right equipment but also has the skillset to take the perfect headshot for your profile. Also, avoid putting up casual selfies as your profile picture, as it often makes you seem unprofessional.
5. Picture aesthetics
Instagram is all about aesthetics. The most popular profile pages on Instagram have one thing in common: they all look aesthetically appealing. Paying close attention to details like the color pallet and filters can make a huge difference in the overall look and feel of your profile.
6. Edit your profile picture size
Profile pictures appear as a circle at the top-left corner of your profile/posts or the Instagram stories bar at the top of a user's feed. Ideally, the uploaded picture should be a 110 x 110-pixel square, which is then cropped into a circle. You can even check to see what your picture looks like in a circle by going to the "edit profile" section in your account. The grey area in your image signifies the portion that the app will crop out automatically. Take note of whether the face or logo is in the center of the frame and appears as the most prominent part of the image.
7. Use a timeless image
A picture that is taken during a particular event or season can be a good temporary choice. However, it may seem extremely unprofessional to have that same image up for months. It could give users the impression that you're not active on Instagram, thus discouraging them from following your profile. It is a good idea to use an image that doesn't seem outdated and can easily be used for more extended periods. Headshots with neutral backgrounds fall under this category.
Your Brand and Your Instagram Profile Picture
The entire purpose of creating an Instagram page is to make your brand prominent and recognizable among your audience. Your profile picture is the one thing that most users tend to identify your brand by. It is the first image that catches the eye of potential followers and is, therefore, pivotal to your brand's overall image.
Conclusion
Instagram is unarguably the trendiest photo and video sharing platform in the world. The social media app is the hotspot of online marketing and is, therefore, the most suitable place for you to establish a positive image for yourself or your business. Among many things that you can do to make that happen, choosing the right profile picture is the first step. Use the profile picture ideas given above to grow and shine on Instagram.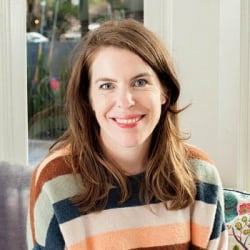 Latest posts by Mattie Schultz
(see all)