With millions of brands, celebrities, and influencers flocking to Instagram, the competition is getting tougher; one needs to go all-in to survive and thrive. Whether you're a start-up building its fanbase or an aspiring influencer exploring the ins and outs of social media, Instagram is a goldmine for everyone.
So, when was the last time you crafted an Instagram caption that made people ROFL or curious or angry (that works too)? Are you from the lot that thinks catchy graphics will suffice your Instagram game? If yes, you're missing a massive chunk of engagement.
Sure, beautiful, gram-worthy photos represent your brand. But without captions, they create little or no engagement. On the flip side, pictures with engaging captions can provide more information to your followers, triggering conversation and reactions.
So, you might ask how to write good captions on Instagram? The good news is that crafting Instagram captions is an easy-to-learn art, and you can polish this skill along the way.
So, are you ready to add context, personality, and action to your Instagram feed? If yes, follow this guide and learn how to write Instagram captions!
Why are Instagram Captions Important?
Are you wondering how to grow Instagram followers organically? Well, captions play an important part in organic Insta growth. But before you start stuffing lines of text under your Instagram videos/photos, it's important to understand their purpose.

Some random words won't serve your goals, but when your Instagram caption is optimized, it will:
+ Build A Brand's Personality
Are you a quirky storyteller planning to make your brand trustable for the masses? Writing good Instagram captions is your best tool. If you can make people happy, curious, intrigued, and excited about your upcoming content with some words, why don't you try that?
+ Urge Visitors to Take Action
Providing users with a clear call-to-action is a prerequisite for social media success, and Instagram is no exception. User-generated content triggers a visitor to take action, which eventually supports your goals. Whether you want the visitors to like a post or leave some comments under it, make it clear in the caption, and you'll surely see results.
+ Make Your Content Relatable
Who likes robotic content? Social media is a retreat for most of us, and we wish to consume light-hearted, full-of-life content. Once you start posting fun-filled captions on your Instagram feed, you'll see engagement rates gradually increase, and that's a huge milestone in your social media marketing strategy.
How to Write Good Instagram Captions?
Now that you know the importance of captions, it's time to answer how to write good captions for Instagram. Be sure to implement these tips in your Instagram marketing strategy. Follow this structure and create BOMB Insta captions without much brainstorming:
Punch Line
The first 10-15 words in an Instagram caption determine a user's behavior; if you fail to grab the reader's attention right off the bat, they won't click "see more." We always encourage Instagram users to write WHAT CLICKS their target audience. There's no hard and fast rule to writing the opening line; you can tailor it according to your target readers and see if it works.
Here's an example of a click-worthy punch line: "Here's why you should never double-tap Insta photos." This line builds curiosity, and a visitor will surely read more to know how the story unfolds. You know your target audience the best, so open your sentences in a relatable way.
Emojis
Emojis are fun! Add color to simple text lines, and support your brand voice. So, it is always a good idea to use emojis in your Insta captions. For instance, you could throw in emojis like surfing and swimming if you're posting a picture or video on the beach. This also holds if you're running a beach resort business.
Emojis are excellent line-breakers. They don't let your readers wade through boring words but add life to the caption. We suggest you explore different emoji packages and pick one that aligns with your brand's tone.
CTA
The ultimate goal of Instagram captions is increased user engagement. And you have to provide users with a roadmap to engage with your content.
It is a good idea to include a call to action in your caption. For example, you could encourage your followers to take action with CTAs like tagging your friends, head to their stories, comment below, and more.
If your caption includes a story, encourage users to share theirs, and it'll keep the chain going. Precise calls to action add incredible value to marketing strategies; Insta captions are no different.
Hashtags
When the competition gets fierce, you have to be proactive. Adding relevant hashtags is a step that takes your business to places. Close an Instagram caption with trending hashtags and put your content in global users' feeds.
You can either use a hashtag generator or use words that represent your services. For example, if you're selling organic skincare products, it makes sense to use the hashtag #OrganicSkinCare. However, don't go overboard with this step, as it can make your account look robotic. Using 5-7 relevant hashtags is sufficient for most Instagram captions.
Let's recall an Insta caption's structure:
✔ Use the opening line to build interest
✔ Include emoji that support your brand's voice
✔ Add a call to action that aligns with your goals
✔ Include hashtags to boost your brand's visibility
And Ta-Da, you've cooked a nice Instagram caption. Sure, it'll need some polishing, but you can learn that along the way. Once your target audience starts interacting with your content, you can analyze their interests and create your future captions accordingly.
Useful Tips to Write Instagram Captions
Apart from an Instagram caption's structure, there are other important aspects to instill life into your captions. Here's how to write good captions for Instagram:
Optimized Character Limit
The maximum length of an Instagram caption should not go beyond 2,200 characters. Anything above that limit will make your captions look like a wall of text or an essay.
If you're happy with short and sweet captions, that works perfectly. In fact, one-liners like tag your friends, link in your bio, check our stories prove to be equally good at boosting your user stats. Make sure your caption conveys the message without sounding robotic or dull.
Bold, Quirky Fonts
Catchy fonts paired with interesting emojis can keep a user engaged. If you want to highlight a specific part of the text, you can increase the font size or change the typography to make it prominent.
Make sure to channel your creativity into making your Insta captions appealing and different. You can emphasize calls to action, giveaway alerts, and important numbers with new font styles and increase engagement.
Easy-to-Read Words
Although your Insta feed's tone should be according to the target audience, be sure your captions are easy to read and understand. You don't want a reader to bounce off because they didn't get your caption. So, keep things toned down for a more user-friendly approach.
Slang words and Gen-Z language are pretty standard on Instagram; you can play with them too! However, never use offensive, outrageous slangs because they can get your account flagged.
Final Thoughts
Running a successful Instagram account is no one-time affair. You must keep up with trends and try new ways to earn user engagement. Writing easy-to-understand, clear Insta captions can build your brand's personality and make your content more relatable to your followers.
Even if you're new to Instagram, follow the above-listed tips, and you can surely craft engaging captions to support your business. Keep practicing, and you'll soon build a solid Instagram presence.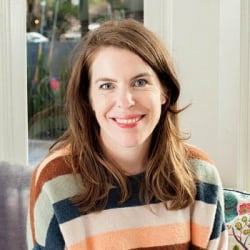 Latest posts by Mattie Schultz
(see all)