Have you ever written a comment in a whirl of emotions on Instagram that you wish to delete, or worse, a comment with typos or grammatical errors? Or maybe someone left an unpleasant comment on your post for everyone to see, and you want to delete it?
Well, you're not alone; we've all been there! Initially, Instagram did not offer the option to delete a comment when the app was first introduced. It wasn't until 2013 that the update was made.
Now, leaving a comment on Instagram doesn't mean it will stay there forever because deleting comments on Instagram is very easy.
You may have read our post on how to view private Instagram accounts and found it helpful. Today, we'll tell you how to delete comments on Instagram.
How to Delete a Comment on Instagram That Someone Else Wrote on One of Your Posts
Here's how you can do it:
Open the Instagram app on your cellphone. Make sure to log in to your Instagram account.
Click on your profile and find the post from which you want to delete the comment.
Select the comments left on your posts.
Swipe left on the comments you wish to delete or press and hold those comments. A trash can icon will appear.
Press the icon to delete the comments, and voila! The comment is gone.
The best part is that Instagram does not send a notification to the user whose comment you delete. That's great because you don't want to annoy your followers, especially when you get them to follow you through an organic Instagram growth service. However, they can always revisit the post and see whether the comment has been deleted.
Additional Tips
You can select multiple comments at the same time. The trash can icon will appear in the right top corner – click on it. Multiple comments that you want to delete will get deleted in one go. This feature is beneficial if you have a public profile.
Suppose you end up removing a comment by mistake. In that case, you can restore the deleted Instagram comment within the first few seconds.
You also have the option to manage your comments. This means you can either hide offensive comments on your Instagram posts or block the users to prevent them from commenting on your posts. Choosing which activities to go with depends on your preference and the nature of the post.
How to Delete a Comment on Instagram That You Wrote on Someone Else's Post
Open the Instagram app on your cellphone. Make sure to log in to your profile.
Search for the post that you want to delete your comment from. Use the search icon at the bottom of the app to look for their profile, or you can browse your feed to find the specific post.
Once you have the required post open, tap on the comments to open up the comment summary. All your comments left on others' posts will be shown on the screen for you to scroll through.
Look for your comment and select it.
Once selected, swipe left – or press and hold the comment. A trash can icon will appear.
Click on it, and your comment will be deleted forever.
Keep in mind that you can only delete your comments from someone else's post. You don't have control over other people's comments. If you only want to edit a comment, you will still have to delete it and comment again because Instagram does not allow editing comments.
Final Words
Comments are a great way to highlight your posts or bring attention to your profile. The comments on your post or your comments on someone else's post are visible to followers, which means you can gain more followers on your account. Comments can also help boost your engagement rate. This is particularly beneficial if you're running an online business on Instagram.
For many people, the online world can be a scary place. Online data has a tendency to stay, and anyone can search for data from years ago. However, these tips will make your Instagram experience much more comfortable and secure.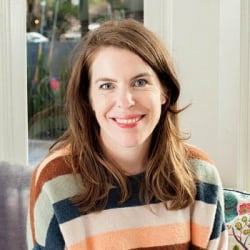 Latest posts by Mattie Schultz
(see all)