Instagram is a powerful social media platform that can boost conversions and sales for businesses and bring in tons of revenue for influencers. But as someone new to the platform, it can be challenging to know where to start when it comes to creating Instagram content.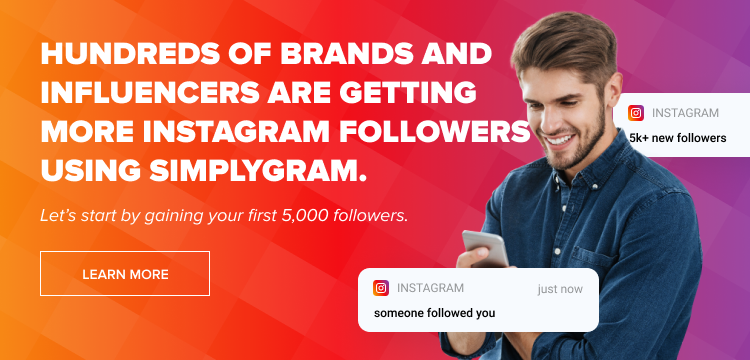 The average Internet user has an attention span of 8 seconds. That means you have just 8 seconds to catch the attention and interest of Instagram users and make them actually look at your post. That also means that engagement and interaction come later. First, you have to make your audience stop idle scrolling and pay attention to your post.
That's why creating attractive Instagram content is so important. Whether it's compelling at first glance can make or break your Instagram contents strategy.
But how do you create stunning and engaging content for the Instagram app? Let's have a look!
Tips to Create High-Quality Instagram Content
With some Instagram best practices and insights into your audience base, you can quickly learn how to create quality for Instagram that will grab your followers' attention – even with their short attention spans. Consider supplementing these tactics with a top organic Instagram growth service for quick success on the platform.
Understanding Your Audience
No matter how amazing your social media marketing strategy is, your content will have little chance of doing well without a good understanding of your audience. The core of your attraction is producing content ideas.
For these reasons, it is always a good idea to dig into your audience's interests, likes and dislikes, demographics, and more factors before developing content for your Instagram account.
How do your followers use Instagram? What kind of content do they like to see? What accounts do they want to follow? Your answers to these questions will make it much easier for you to figure out what your account lacks, and based on that, you can improve your strategy.
Measure Performance
The fastest way to understand what works for your audience and what doesn't is to use Instagram analytics. With a good analytics tool, you can track your metrics and see what posts perform well and what kinds of content pieces drive faster engagement. Figuring these out will help you craft a high-performing content strategy.
Remember that simply tracking your own content isn't enough; you should be looking at your competitors' content as well. While you can't get as much great insight on others' Instagram posts as your own, you can see what content helps them more and then use the findings to enhance your own posts' quality.
But when is the best time to Instagram posting, you ask! Well, with good analytics tools, you can also find the best time for posting. This can help you reach the largest audience possible. Your followers won't all be online simultaneously, but you want to catch the time frame when most of them are active on the platform.
Good Captions
Sure, Instagram is almost entirely a visual platform, but your posts should also have compelling captions to create engagement. Many brands make the mistake of dumping hashtags in a space where you should be talking to your audience – using compelling Instagram stories or having a conversation with your audience.
Perfecting your captions will take time, and it involves a lot of trial and error. But with the right analytics tools, you'll be able to figure out how well your captions are working. With this information at hand, you can tweak and improve your strategy to maximize your reach and engagement.
Remember – your captions don't have to be very long or very short. What matters is that they must complement the posts, are helpful to your audience, and deliver value.
User-Generated Content
As the name suggests, user-generated content is content made by your followers, brand loyalists, or customers. For instance, your customers can produce content that references your brand by mentioning that they use your product or service, or even just mentioning your brand in the caption.
UGC is powerful because it is a form of endorsement, which can improve your reach and awareness. Instagram's users appreciate content produced by other users because it feels more authentic and personal than something a brand uses to promote itself.
You can encourage your followers to create original content through campaign hashtags that they can post for you to see.
Another bonus of UGC is that you get new and creative content that you can share with your followers! Remember to ask the original poster for their permission before resharing, though.
Call to Action
Your content can be great at increasing awareness and reach, but that's not all it should be doing.
Your content marketing strategy should have two parts: to expand your reach while engaging with the audience. The other is to encourage your followers to interact with you on different levels.
Instagram is an excellent way to develop your brand's relationship with its audience. But at the end of the day, you do need your customers to take the next step. For that, a call to action is essential, and it should be compelling enough to actually result in action.
You can use Instagram captions and stories to create CTAs. Usually, this leads your followers to your website, but it should also be relevant to the content that you're sharing. Otherwise, it can feel out of place.
Improve Engagement
Engaging with your followers is a crucial part of encouraging them to interact with you. Nobody wants to be part of a one-sided conversation. Creating content that gets a lot of likes and comments is great. Still, you also want to engage with them in the comments section – replying to and acknowledging them – so that they will be more likely to comment again in the future.
Getting higher engagement is excellent for getting you onto the Instagram Explore page, a massive milestone for any brand.
Stay Consistent
Consistency is vital for any brand to keep its image on Instagram. Your brand has a personality, and your content across all platforms should reflect that same message, even if the content you post is different. Your audience shouldn't be confused about your brand's persona, and the kind of content you post should also remain consistent.
Most internet users nowadays attach the brands they like to their identity. And if you want them to remain faithful to your brand, you want to uphold the image that they were attracted to in the first place.
That said, you don't want to recycle your content. If you've made a post for Instagram, you don't necessarily have to post the same thing on Twitter or Facebook. You know that different platforms are used in different ways. As such, the type of content posted there should cater to the portion of your target audience found there, or should be optimized for that platform, specifically.
Collaborations
You'd be surprised how much of a difference influencers can make and how much importance your audience attaches to what users with a huge follower base on the platform have to say. In fact, about 90% of marketers who work with influencers believe it is an effective Instagram strategy.
It is a good idea to take the right influencer on board. Someone who complements your brand identity and your target audience. Working with influencers can help you create great content and improve your reach and brand awareness.
Templates and Stock Photos
While all the tips we've given you so far are about creating content that does well, there is always the problem that not everyone has enough content to actually post. After all, Instagram is a visual platform – so where do you get the visuals?
One option is to use templates. If you're a great graphic designer, you can make your own templates. But there are always free templates that you can download and edit to suit your brand if you can't create templates yourself. For example, Canva is an excellent place to find pre-designed templates for Instagram. Templates can make your Instagram feed visually appealing while also getting your message across.
Another option is to use stock photos. While original content is always better, there is no harm in using stock photos once in a while, provided that the image is relevant and comes with a good caption. You can edit these to make them feel less like stock photos, but remember that since your competition will have access to the same ones, try to dig deeper to find more unique pictures.
Stay Relevant
Goldfish have an attention span of 12 seconds – which is greater than the 8 seconds of an average internet user nowadays. That, along with your social media algorithms, means that your content can't start falling behind on trends. Your audience is quick to lose interest in anything that isn't the hottest news or trend. So, you have to stay on track and keep yourself up-to-date with whatever's relevant and trending right now.
Final Thoughts
Your content is your most powerful weapon to triumph on social media. Good content can make your brand exponentially bigger. Again, at the base of all of these, you should understand your audience and your brand and create content that conveys your message in a way that provides value to your followers. Use the tips given above to develop results-driven content strategies.

Latest posts by Mattie Schultz
(see all)