A collaboration on Instagram is one of the fastest ways of growing a brand's presence online and supercharging business growth. Brand collaboration is when two or more brands (be they businesses or influencers) create content for an exclusive and mutually beneficial growth campaign.
Influencer marketing is quickly growing to be the fastest, most cost-effective way to boost sales. A collaboration may be free for a business owner, or it may cost you some amount.
And as an influencer, you can collaborate with businesses to promote their products to your social media followers. Also, you can charge money from the company or do the promotion in return for a free product.
Brand and influencer collaboration is vital for business success in the modern era. An AMEX study revealed that mid-sized companies in Australia should be collaborating five times or more per year for results that yield either $319,000 in savings or $430,000 in increased sales.
Brand collaborations on social media networks like Instagram are a massive part of cost-effective brand marketing. It has the power to trigger tremendous ripple effects on audience engagement, build a loyal community, attract publicity, and boost your revenue stream.
For collaborations purely for Instagram, think about giveaways, competitions, hashtag challenges, Instagram stories, takeovers, and content collabs… the social media world has huge potential just waiting to be tapped. But, your Instagram collaboration ideas must be creative, and your content must be purposeful, fun, entertaining, and valuable to trigger responses. That's a surefire way to have a successful collaboration on Instagram.
How to Land Your First Instagram Collaboration
A successful Instagram collaboration will involve lots of planning, preparation, follow-through, and knowledge about how to grow an Instagram account fast. Not to mention, a post-campaign analysis is required to measure the campaign's success.
For any collaboration, Instagram gives you many options in terms of features because there is no one-size-fits-all guide to brand collaborations. What suits one brand or influencer may be way off for another. And here's where you need to decide how flexible you can be and how far you're willing to go based on your priorities and vision for your brand.
But there are some general guidelines to help you steer your collaboration efforts in the right direction. Follow the steps explained below and lift your chance to win brand collabs:
Step 1: Create a List of Potential Collaborators
Your Instagram collaboration's success depends significantly on your partners, which is why you must first find the right fits for your campaign.
Who do you want to collaborate with? What is their niche? What types of content do they produce? How many followers do they have, and is their content engaging enough? Is their offering complementary to your product/service?
These are some of the questions you must answer and then create a list of your potential collaborators based on your research and findings.
We'll talk in more detail about this step in the next section. But you should ideally shortlist a few candidates to approach. But be realistic and keep in mind that not everyone will be open to your offer.
Step 2: Contact Your Potential Collaborators
Once the list of your potential collaborators is ready, you need to reach out to them with your offer and plan. But keep in mind that the mode of communication you'd want to use may differ from one influencer or brand to another.
It is a good idea to head over to their Instagram account and bio to see how they prefer to be contacted. Or you could visit their website to get their contact information.
If they've already mentioned their preferred communication method, you don't have to look further. If not, then you can send an email because it looks way more professional than a DM; it is a possible business deal, after all. If your lead has no email address, you could send a DM on Instagram or their other social media accounts.
In your initial message, make sure to introduce yourself and your brand a little bit and explain the reasons for the potential collaboration. Try showing them why collaborating is in the interest of both of you – a little well-done flattery doesn't hurt!
Step 3: Negotiate a Deal
Once your lead accepts your offer, you have to negotiate the deal and communicate your expectations. Be sure to explain how the campaign would work and share the plan and any crucial milestones, content ideas, and deadlines with your partner.
It is vital to sign a contract and ensure that both partners know:
The product/brand they're up to promote
Perks of the promotion (monetary or otherwise) and how they will share the benefits
Campaign length
The type and frequency of promotional campaigns
What results do you expect, and how would you evaluate the success of your campaign
Also, share more details that you consider important beforehand.
Step 4: Implementing the Campaign
Implementation is the most thrilling part of any campaign. Therefore, it is crucial to plan and prepare your campaign from start to end.
For example, if your collaborator is offering special concessions via a discount code, you must make sure the code is ready beforehand, and you can track its frequency of usage. Or, if both of you are going to share each other's Instagram posts, you must improve the images and descriptions in advance.
It is a good idea to create a content calendar because it will keep both of you organized and on track. It will also ensure consistency and spur more engagement.
Also, make sure to communicate with your partner throughout the campaign so that both are on the same page and satisfied with the results.
Step 5: Evaluate Your Campaign's Success
After your campaign comes to an end, you must sit down with your partner and evaluate your campaign's success. Alternatively, you could share your campaign dashboard with them and then undertake the evaluation on a video call.
You and your collab partner should have set some goals and expectations before launching the campaign. Now is the time to measure your results against your goals to determine if it was a success or a failure. 
For example, you could assess your KPIs and take note of the changes. Did your follower count rise? Did your engagement rate increase? The conversion rate of the campaign? How many sales did the campaign generate?
If you're not happy with the results, don't stress! You can use the lessons learned from this campaign to make your next project a success.
How Do You Decide Who to Collaborate With?
As mentioned in the section above, a major part of the success of a collaboration depends on who you're working with. The goal is not to connect with influencers but to connect with the right influencers whose brand vision aligns with and complements yours. It may be tempting to accept a lucrative offer, but if the brand doesn't fit your goals and niche, you will likely lose your brand integrity and followers.

So, it is good to start by shortlisting some influencers or brands that you want to work with – say, twenty. You can always narrow them down later based on their replies and your evolving vision for the campaign.
Here are some essential factors you should keep in mind when listing down candidates:
Matching Target Audience
An Instagram collaboration allows you to tap into your partner's audience, which can help expand your reach. However, in doing so, you need to make sure that the target audience is similar to yours to have maximum conversions. For example, if you are a fashion blogger, you should collaborate with a fashion brand or another fashion influencer instead of a food brand or food influencer.
Marketing Goals
A successful Instagram collaboration is mutually beneficial. When both parties have a lot to gain from the partnership, the campaign is more likely to succeed. Likewise, when a potential partner has similar marketing goals to yours, they are more likely to get on board the collab.
Number of Followers
Ideally, your partner will have a follower count that matches your follower count. That's because both of you will benefit equally when it comes to audience reach. That being said, some influencers do agree to work with small businesses because of their brand values, vision, or engagement rates.
Future Benefits
Sometimes a successful Instagram collaboration can lead to long-term work. This is tricky to determine early on, but if it's a "dream company" for you or a great fit, you might even consider being generous in the start to establish goodwill and a possible ongoing relationship.
Conclusion
As with any business partnership, Instagram collaboration requires planning and preparation to make it a success. But in any case, you are doubling your reach and introducing your brand to a whole new group of people. That's sure to further grow your Instagram account and lead to conversions.
But remember that collaboration is an evolving process, and the social media landscape keeps changing. It makes sense to keep up with the current trends and bring something new to the table to keep your followers engaged and impressed and become successful on Instagram. A tactic that worked two years ago may not necessarily work now due to the fast-paced evolution of the social media world.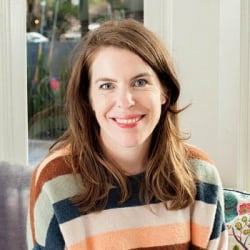 Latest posts by Mattie Schultz
(see all)