Why create content that is only available for 24 hours? Why share videos that you will have to segment into ten-second fragments? What is the point of working a script, copy, image or video that is doomed to disappear? Is it worth it?
Snapchat was the first to do so. And now Instagram Stories have proven that yes, it is worth it!
Each application has its own peculiarity, with its niche of specific target audience. Each one has its own strong points and opportunities. And above all, each platform has its own way of understanding how to generate attractive content. What Snapchat and Instagram Stories have achieved is to give a nice twist to the way we tell stories today. This is especially true for brands looking to make a dent in the vast social ecommerce world.
Anyone who does not know how Snapchat or Instagram stories are used would simply think that these posts are just a series of images or video fragments with a few catchy phrases and colorful stickers. They have never been more wrong.
The way content is consumed in stories is completely different. In Instagram Stories and Snapchat, there is no news feed where content regularly appears like Twitter, Facebook, LinkedIn or even Instagram itself. Here, users "display" or "showcase" people or brands in their stories. In most of these stories, a "Call to Action" is included which allows you to click on a story or interact with the publisher. From the get go, getting the "viewer" to visualize the story, feel the impact and participate in an interaction are the main challenges.
Telling a narrative in fragments of ten seconds is not an easy feat to accomplish either. It requires synthesis, agility, versatility and much, much more creativity. In fact, it requires enough creativity to ensure that the viewers stay with you for entire length of the published story. Once the audience gets bored, they will jump to another story or another brand. It is a kind of viewing taken to the next level. It is an entirely different format.
And How Are Brands Using Instagram Stories And Snapchat Now?
Brands have their own strategies in terms of publishing stories. There are brands that are very active on Snapchat but have not yet started on Instagram Stories. Others repeat content on both platforms. There are other brands that only publish on Instagram and there are also some that meticulously curate respective content specific for Snapchat and IG Stories.
Here are some keys points to consider when building a story on any of the two platforms:
Do not create a "thread" that is too long. Think about having to segment a Youtube video into fragments of 10 seconds. After the fourth or fifth sequence, the risk of abandonment increases.
Combine images and videos. Consider alternating. In the case of Snapchat, you can also vary the duration of the photo sequences. Use this feature to create rhythm.
When activating a user interaction that requires taking screenshots, place it in the preceding image so that the next image is captured. In Instagram Stories, you can go back by clicking on the left side of the screen. On Snapchat, you will need to view it again from the very beginning.
Do not limit yourself to using Instagram Stories or Snapchat in launching teasers of new products, or reposting events and shows related to the brand. To maintain interest and encourage more views, switch to other alternatives like making tutorials or product applications, generating mini interviews, creating fun and simple games that invite users to interact, and other curiosities related to your brand territory.
Take advantage of all the resources at your fingertips: texts, videos, stickers, and signs. On interviews, do not record the question. Type the question on the screen. Mark elements of the image that you want to highlight. Enhance the image by adding elements wisely.
Do not miss the opportunity to generate traffic to your website. Tell your Instagram followers where they can see more information and provide them with your website's URL. On Instagram Stories, for example, encourage them to click on the URL highlighted in your profile's bio. The content of your story will only be available for 24 hours, so remember to create a new one once the first story expires.
The best way to get more traffic on your website is to grow your following as well. Try out Simplygram's free trial and get 30,000 followers in under a year.
Given these tips, what brands are telling good stories these days? Here are six examples:
1. NASA
The National Aeronautics and Space Administration creates curious stories, which they usually post on Snapchat and Instagram Stories. They publish brief narratives on "aerospace rides", repairing equipment in a spacecraft, curiosities on National Aviation Day, and tidbits about ongoing investigations. Do you know what an exoplanet is? One of their experts will explain it to you in 10 seconds, and the rest of the team will detail its importance. NOTE: Their stories are also usually reused in the International Space Station profile. Talk about a great way to take advantage of 24 hours, right?

2. Starbucks
First on Snapchat, and now also on Instagram Stories, Starbucks is a world specialist in devising interactive games and inviting the users to play. They have come up with their own tic-tac-toe, and even a Starbucks version of "Connect The Dots". In a day, they will propose the game and encourage the proposals to be sent via direct message. 24 hours later, they will publish the results showcasing the users who have participated. And yes, you get answers not only for the pleasure of playing, but also for the ego boost that it gives you. It surely feels awesome when a brand with as many worldwide followers such as Starbucks tags you, and mentions content created by you.

3. Taco Bell
They are proponents of an interactive mini race game where the objective is to overcome obstacles and catch one of their products. One great thing about their game is that the user always wins and receives a trophy in the end. Players can customize this trophy and send it to Taco Bell. The next day, Taco Bell shares the trophies made by their Instagram followers.

4. General Electric
G.E. is very active on Snapchat and just new to Instagram Stories. During the summer, they have been counting and recording the days as they carried out work in the Masaya Volcano (an active volcano) of Nicaragua. They placed a whole network of sensors that allows for the early detection of eruptions. They shared images of the volcano's crater and footage of the descent inside. General Electric often narrates curiosities related to energy. To explain what system they used for the lamp posts that surround the Eiffel Tower in Paris, so that their light scares the insects that bother the visitors, GE created animated vignettes. They delivered this using a sequence of stop motion animations whose speed could be accelerated by pressing repeatedly on the mobile's screen.
5. Unicef
They usually take advantage of events and special dates to raise awareness about issues that affect children. They share brief interviews with experts and redirect the viewers to web pages where more information can be found or action could be taken. Their main objective is to raise awareness.
6. Desigual
Teasers and behind the scenes videos are the stars in most of their stories. But sometimes, they also share a surprise or two. This summer, on Instagram Stories, they published a mini story showing viewers how to fold a shirt in just three steps, for three seconds, using just one hand. First, they showed the complete video, and then the step by step instructions in a series of images. The interaction was so huge that they repeated it days later, and published it on Snapchat as well.
And of course, all great stories are best told in the presence of as many followers as possible. Entice your Instagram followers to stick around and get more IG followers by signing up for a free trial of our Instagram growth service today.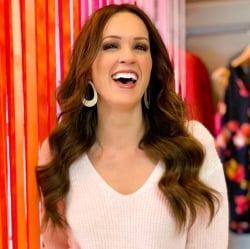 Latest posts by Lorraine Morgan (

see all

)